Three people have shaped David Grant's life. Now one is on the other side of the country, one is on the other side of the world, and one may be gone forever.
Dave's dad is always there for him. But everything changed in Niagara Falls, where Dave learned that fathers are not superheroes. They are flawed and fallible and invaluable models of the men that boys become. Dave's best friend is Ollie. And you can always count on "The Big Man" to carry Dave, his wheelchair, or both during hard times. They joked and fought their way through the adolescent purgatory that was Slauson Junior High School, and together they can survive anything. But can Dave survive alone? His first day at Slauson, Dave met Annie, and she was perfect in a twelve-year-old boy's eyes. Over the years, their adventures in Toronto and the Bahamas brought them closer, but now the distance between them may be insurmountable. And so Dave's journey to find them begins. The question is: where will his journey end?
Powered by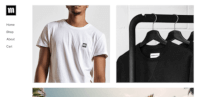 Create your own unique website with customizable templates.